AQUA TOFANA / Beauty Elixir
A DIVINE COLLABORATION
---
Inspired by the wise women behind the earliest Apothecaries comes our newest formulation: Aqua Tofana Beauty Elixir, a divine collaboration with The Tiny Cauldron. The co-creation of this magical formula offers an ethereal sensory experience that's reminiscent of an earlier time. It continues the work of the women who've gone before us, a calling-up and calling-in of the ancient medicines that celebrate and enhance a Divine Feminine force that is fierce, vulnerable, strong, raw, soft, and open.
This beauty elixir, with its notes of Jasmine, Violets, and Vanilla Bean, embodies the essence of the Divine Feminine, her passions, and intrepid spirit. Aqua Tofana sings the virtues of blending potent roots, medicinal mushrooms, and flowers together—for added self-awareness, heart connection, and the compound benefits offered to the spirit by ingredients that work synergistically. Violets and Sacred Datura, for example, complement one another to deliver compound self-liberation, self-expression, and soul expansion, while retaining the tender qualities of feminine beauty. Where Jasmine flowers are celebrated for their ability to attract spiritual love, love based on attraction to soul, Vanilla Bean brings luxury and indulgent richness. To enhance our physical beauty, a dose of Tremella Mushroom was added for its ability to improve skin hydration when ingested and has been used for millennia as a delicacy.
The original Aqua Tofana was the infamous creation of Gulia Tofana in the 17th century to release women from unhappy marriages. At the time, her mysterious formula was a response to hierarchical power structures used to repress women. Our modern-day interpretation is all about female empowerment—to be accessed and fully expressed. This beauty elixir is available to you to treat yourself with the grace and honor that your divine spirit requires. To connect you to your power source, to remind you that you are a force of Nature.
You are an ancestress of what is to come. Aqua Tofana is an invitation to gather up pieces of yourself that have been forgotten, and to rise. Come home to the beauty and truth of yourself.
ACTIONS
May be helpful to:
+ Encourage supple, hydrated skin tone
+ Lift the mood
+ Nourish feminine energies
+ Inspire amorous relationships
+ Arouse feelings of self-love
+ Invite feminine magic
+ Revitalize heart connection
AQUA TOFANA / Beauty Elixir
ARTISAN FORMULA
*Jasmine Blossoms, *Violets, *Coconut Water, *Butterfly Pea Flowers, Ginger Root, *Tremella Mushrooms, *Vanilla Bean Extract & Sacred Datura Flower Essence. Extracted in Fresh Spring Water, Artesian Well Cane Spirits, and Vegetable Glycerin. | *Organic
Take a closer look...
INTUITIVE & INTENTIONAL BOTANICALS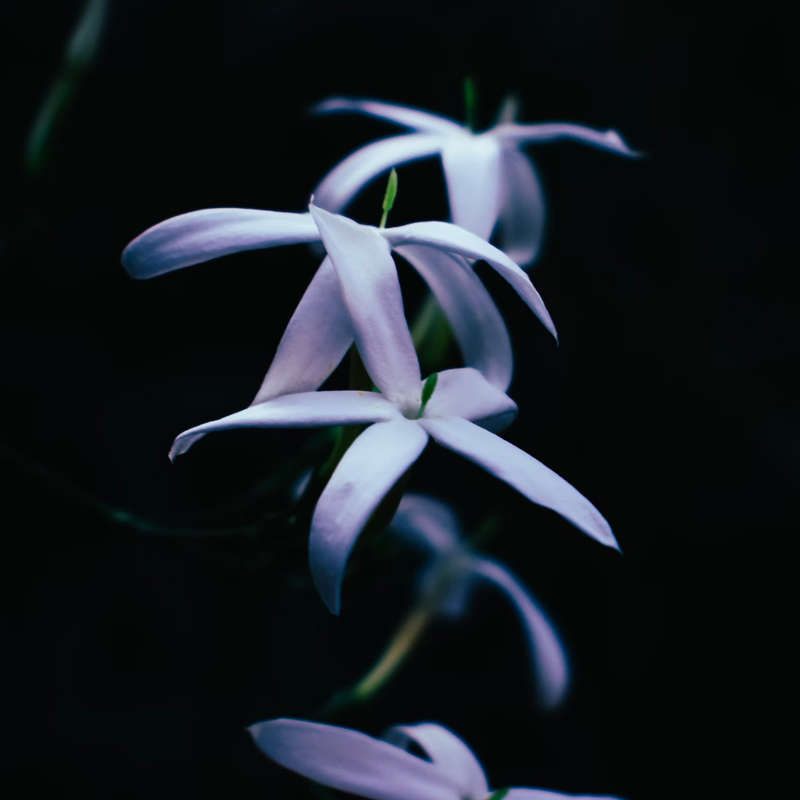 Delicate, fragrant Jasmine flowers have been used for time immemorial for their healing and uplifting properties. It takes its name from the Persian word Yasmin, meaning 'Gift from God'; its flowers held sacred by many cultures. With natural hormone balancing properties, Jasmine is a loving plant ally for gently nurturing women through each stage of their reproductive lives. Both sensual and serene, Jasmine offers its sacred feminine powers to lift the mood, spice up the bedroom, nourish the womb space, and calm the nerves.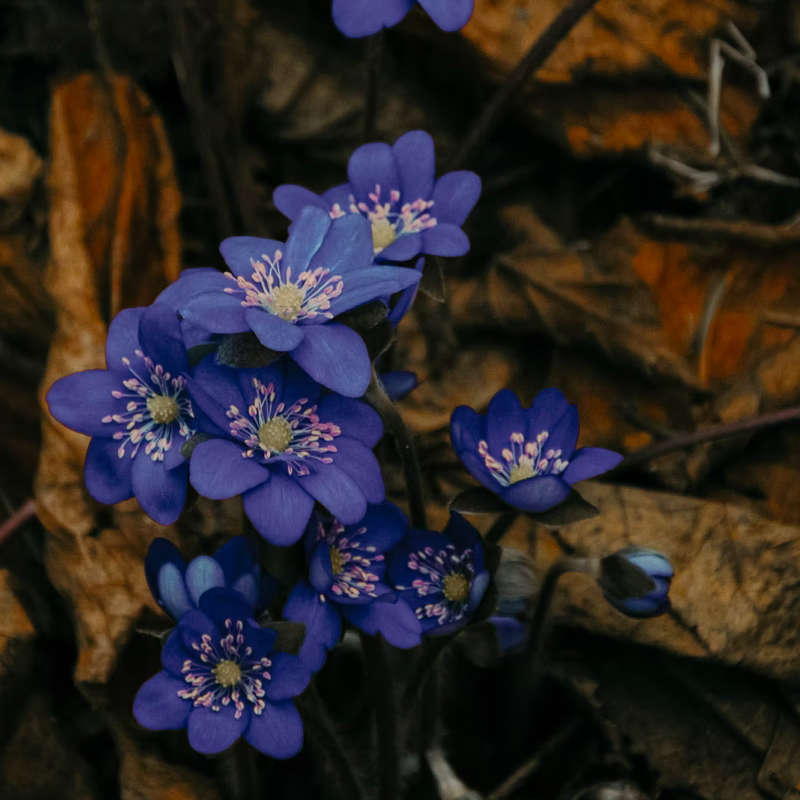 From Greek and Roman, all the way to western religions, violets have symbolized the most feminine of magics—dreaming of your true love, wish magic, and beauty enhancement. They are said to draw in new love, or to ease heartbreak and is often referred to as 'Heart's Ease' for this very reason. Violet's are attuned to highly evolved souls, assisting with self-liberation and self-expression, allowing one to realize their own beauty and to have the courage to protect it and show it to the world.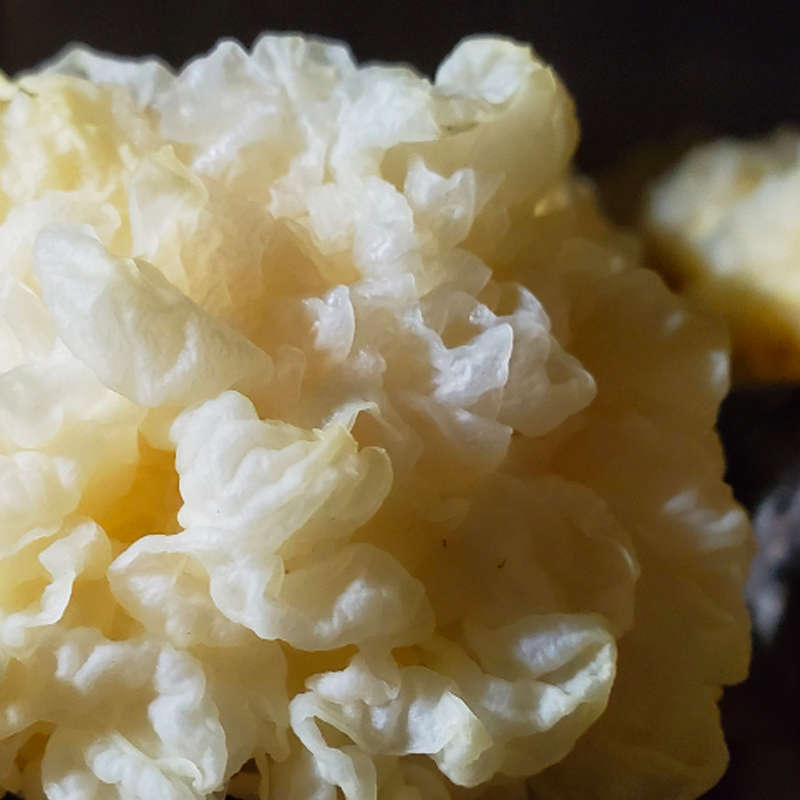 Tremella fuciformis, also known as Snow Mushroom or Silver Ear, is a delicate, flower-like fungus known for its tremendous hydrating and rejuvenating properties. When ingested, it furthers the body's ability to maintain supple, moist skin tone as well as bring harmony to the inner sanctum. Ideally, the skin seeks to draw and lock in moisture; Tremella's gelatinous structure combined with its polysaccharides give it remarkable water retaining powers. Saturated in feminine Moon energy, this lovely shroom effectively encourages beauty from the inside out.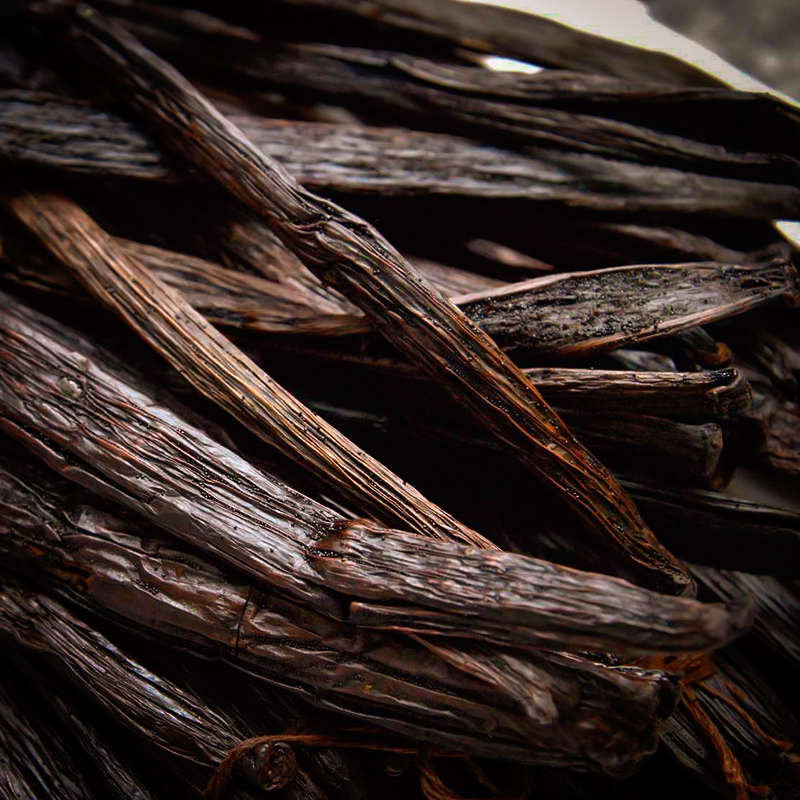 A ripe, cured fruit of a climbing tropical orchid, Vanilla brings a certain luxury and depth of flavor that has rightfully earned it its name, 'Nectar of the Gods'. Vanilla is one of Nature's finest gifts, a symbol of hedonistic pleasure and indulgence. Anything but plain, the drama of Vanilla is both sexy and erotic, sweet and innocent—promising amorous evenings wrapped in charming persuasion.
Sacred Datura Desert Flower Essence
When we feel that we need re-examination and change, Sacred Datura honors us by giving us the courage to let go of the familiar and secure; opening the doors of our perception to break down the walls, bust through the ceilings, expand, invite new people in, and change the programming. At different times in our lives, our souls urge us to let go of who we think we are and to step into new expanded experiences of reality, allowing us to evolve and discover that we are something more.
LEARN MORE
Dosage
1-3 dropperfuls under the tongue as desired.

- or -

Create a MOON MAGIC PRACTICE
We recommend 1-3 dropperfuls, 3x daily for a full lunar cycle. Your Moon Magic Practice can start with the New Moon or the beginning of your monthly cycle. This is an opportunity to attune with Nature and your natural rhythms and align to the energies of the plants used in this formulation to focus and refine what you intentionally want to invite into, or rid from, your life. You can start with the simple ritual we've outlined or create your own. It's your time to focus on you, to be peaceful, quiet, and mindful. Manifesting the Moon's magic is a beautiful, fulfilling practice. Enjoy.
The Ritual
Give pause before partaking to connect with your intention

Close your eyes and hold your formulations in cupped hands, allowing a free flow of energy and heart connection

Breathe into your heart and your belly, listening and feeling instead of thinking

Partake when ready, taking time to experience the uniqueness, flavor profile, and all the mouthfeels.

Sit quietly
Journal what comes to you
Give thanks


Sarah is a hedge witch and cottage witchcraft practitioner and owner of this little online cottage. Her handcrafted offerings range from herbal ointments and salves to alter items and ritual tools. Her practice is intimate and community-driven. We're honored and delighted to have her as a co-creator.
VISIT THE TINY CAULDRON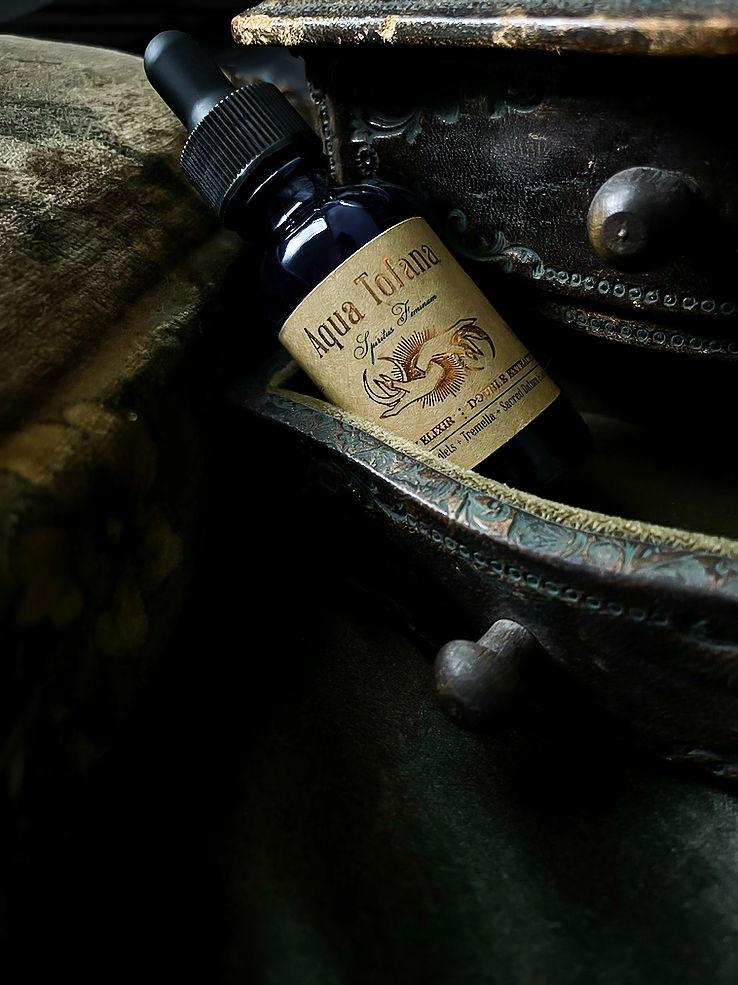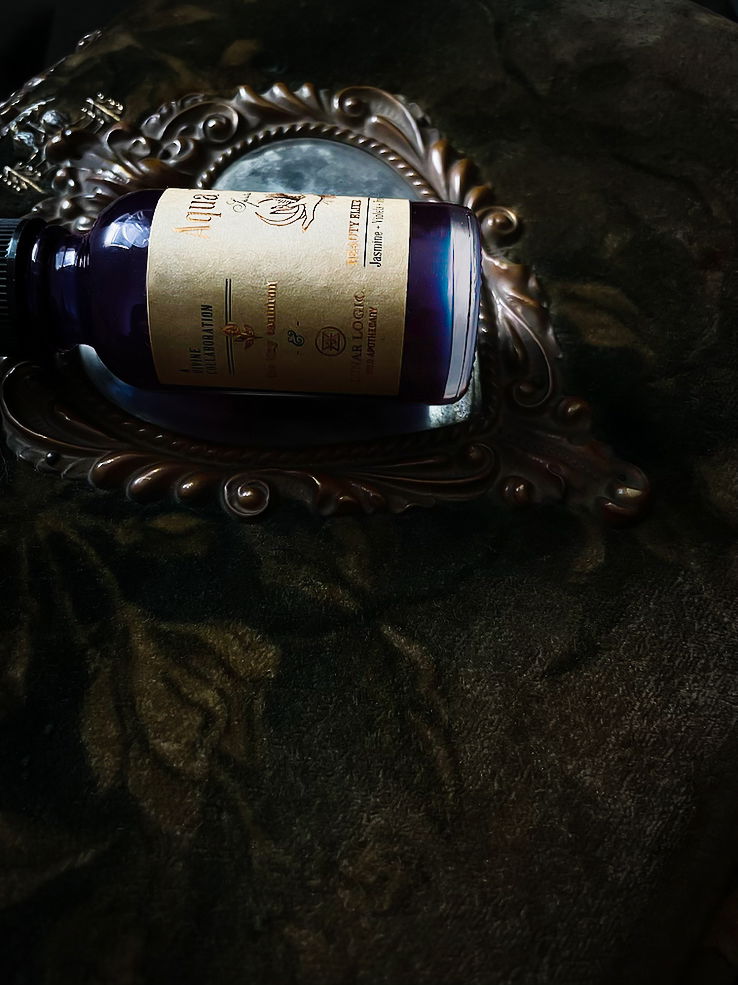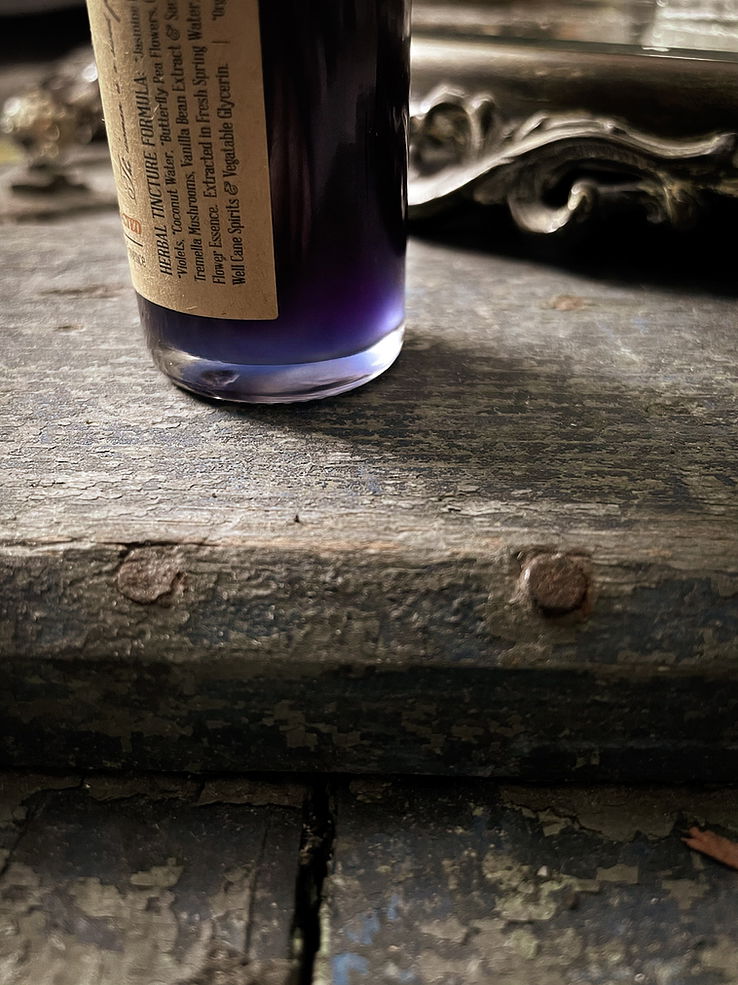 Wake up! You are it.
You are a part of the circle of the Wise.
There is no mystery that has not already been revealed to you. There is no power you do not already have.