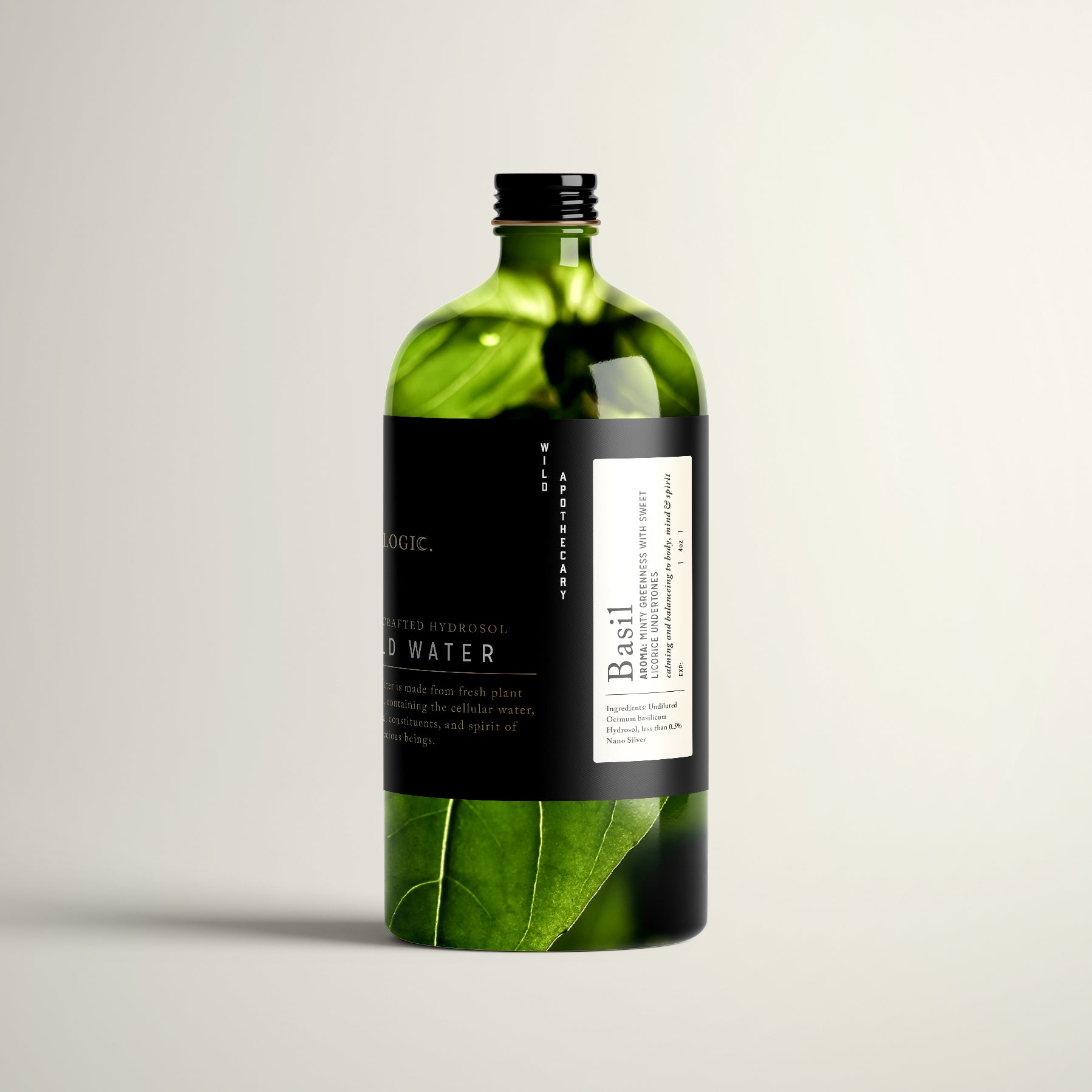 WILD WATER / Basil Hydrosol
Stress-relieving, calming, and balancing, Basil Wild Water is a sensory bridge to quiet and restore the autonomic nervous system. Internally and externally, Basil comforts with a multitude of green blessings. Among those we often return to for internal healing are a range of properties known to benefit the digestive tract—carminative, spasmodic, tension-tamer.
May be helpful:
+ Calming a nervous stomach
+ Fast-acting carminative
+ Helps relieve gas and bloating
+ Restorative to body and spirit
+ May help relieve tension headaches
+ Calming spasms in the diaphragm and digestive tract
+ Eases digestive discomfort
+ Firms and nourishes aging skin (facial mist)

Internal Use: Must dilute before use. Hydrosols are ~10x the strength of tea. When using internally we recommend 1 tsp per 8oz of water.
For a cooling facial mist or kitchen use, store in the refrigerator. Use within 8-12 months of purchase date. Do not expose to heat or direct sunlight. Store in a cool, dry place.


---
Our Wild Water formulas are made of hydrosols, which is a physical manifestation of alchemy – a substance of transformation. The process touches all five elements. As plant material harvested from the Earth is placed inside a copper alembic still it is then mixed with fresh spring Water and heated by Fire which transforms it into vapor (Air & Ether). This vapor condensed down into a beautiful aromatic hydrosol.
ARTISAN FORMULA: Organic Ocimum basilicum distilled in pure spring water. We added a splash of colloidal silver to extend the shelf-life.
WILD WATER / Basil Hydrosol
MEDICAL DISCLAIMER
No Lunar Logic products are intended to diagnose, treat, or cure any disease, nor have any statements on this website been approved by the FDA.
Herbal products are not regulated by the FDA and everyone responds differently to the application or ingestion of herbs. Please consult your medical professional before ingesting or topical application of any herbal remedies to ensure against side effects with medications, or if you are pregnant or nursing.
SHIPPING INFO
We do our best to ship online orders within 1-3 business days. During sales or special events, this may increase up to 5 business days. You will receive an email with detailed tracking information once your order ships.